Squarestyle - 112 x 40mm (featuring 40mm battens)

(MR4799)
Squarestyle - 112 x 40mm (featuring 40mm battens)

(MR4799)
Create impressive architectural statements that are right on trend with our range of Squarestyle timber linings.
Squarestyle lining gives you the look of hit-and-miss battens with the convenience of tongue-and-groove boards. This means that the lining is quick and easy to install, saving you time on site.
The bold, contemporary lines of Squarestyle form stunning shadowlines that give a sense of depth and contrast, and add interest to any surface. Depending on the look you prefer, you can select either natural shadowlines or black shadowlines.
Squarestyle is made from beautiful solid Western Red Cedar, and is secret-fixed for a crisp, clean finish. Squarestyle timber linings can be used internally or externally to design striking timber features and facades.
Product Size
Squarestyle is available in a range of profiles and size variations. This product (MR4799) features 40mm wide battens with a 16mm negative detail. MR4799 is 112mm wide x 40mm high and is available in a variety of lengths.
See related products list (below) for other profile options.
Squarestyle lining is ideal for:
• Internal and external feature panels
• Walls and ceilings
• Alfresco areas
• Commercial fitouts, including offices, retail and restaurants
• Lobbies and entry foyers
• Private homes
• Facades and stunning focal points
• Squarestyle adds another dimension to your project
Matching Designs
1. Cedar West can supply a beautiful timber door with a 3D profile that matches this Squarestyle lining - the Richmond door (standard profile). Click here to find out more about the Richmond door.
2. Squarestyle MR4799 has a similar profile set out as our Squarestyle MR4678 and Flutestyle SS40 timber lining. Each of these three products features 40mm wide cedar battens with a 16mm negative detail.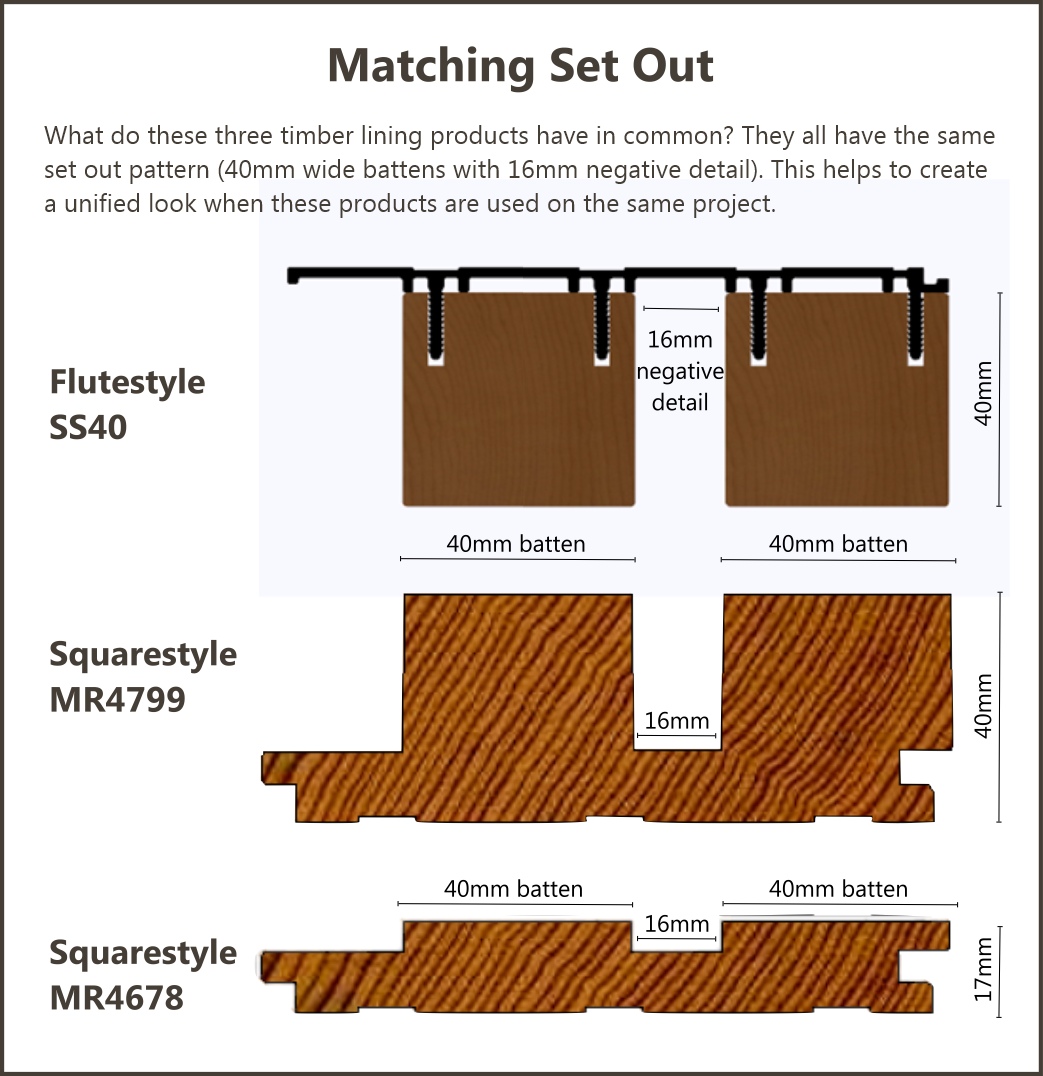 Interested in using Squarestyle for your next project? Click the "Get Quote" button below or contact us for more information!

Solid Western Red Cedar tongue & groove lining.


112 x 40mm Cover.


Features 40mm wide battens with 16mm wide negative (shadowline) detail. This is the same batten width and negative detail as Squarestyle MR4678 and the Flutestyle SS40 lining.


Available in 300mm increments up to a maximum length of 6000mm.


Secret fixing.


End butt joints must be joined over a ceiling joist or have a glued backing block to hold secure.


Available with natural shadowline (raw timber) or black shadowline (factory-painted black primer).


Squarestyle lining requires painting, staining or sealing (including shadowline groove).


Recommended sealers for this product:
(1) Natural shadowline - Sikkens (internal/external) or Intergrain UltraClear (internal/external) or Cutek (external only);
(2) Black shadowline - Sikkens (internal/external) or Intergrain UltraClear (internal/external).


May be used internally or externally.


Vertical and horizontal applications.
(click to image enlarge)
Make Your First Impression Last