Our beautiful timber double hung windows feature an ingenious 'tilt-and-remove' mechanism that allows the window sash to be easily removed for cleaning or maintenance.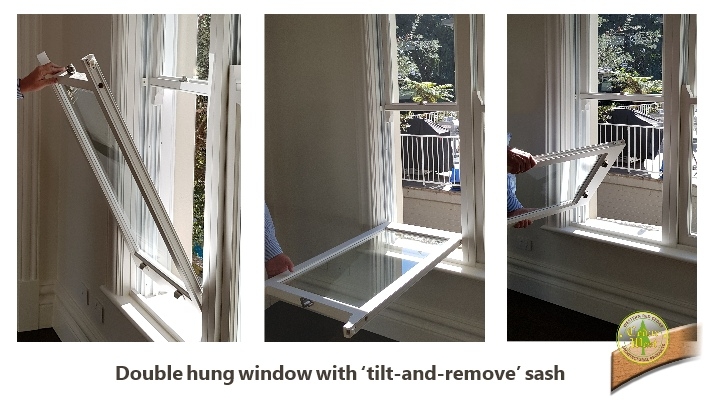 Tilt-and-remove instructions available in "downloads"
What is 'tilt-and-remove'?
Tilt-and-remove technology enables the timber window sash to be quickly and simply removed from inside the frame. Just pull the clips, tilt the sash forward and remove the entire window sash.
Our tilt-and-remove double hung windows use a concealed steel spring and pivot mechanism (spring sash) instead of an old-fashioned rope and pulley. This provides an increased range of movement and flexibility.
Tilt-and-remove double hung windows are the ideal solution for areas that are difficult to access because it is possible to clean and maintain both sides of the window safely and conveniently, without having to go outside.

Double hung windows provide excellent ventilation as the top and bottom window sashes can be opened independently to allow hot air to escape out the top while cooler air enters below.

Even when fully open, double hung windows do not protrude beyond the window frame, which makes them a great choice for openings adjacent to doorways, onto patios, outdoor areas and pathways.

Precision machined from 100% solid timber (no veneers or fingerjoints).


Custom-made to suit your height and width requirements.


Exclusive 'tilt-and-remove' mechanism.


Maximum sash width 1050mm. Maximum sash travel on windows over 1800mm high is approx 750-850mm, subject to weight/spring configuration.


Unequal-split sashes available (eg top sash 1/3rd, bottom sash 2/3rds).


Also available as a single hung window, with one fixed sash.


Available in a range of glazing styles, all with double silicone seal.


Federation/Colonial style glazing available (with integrated timber bars).


Frames include sash horns as standard (shaped horns optional).


Lift options: (1) groove rails; or (2) sash lifters (80mm bottom rail required).


Jamb liners available in brown, white or clear anodised.


Optional hardwood extended sill available (165mm).


Midrail options: (1) 35mm wide (traditional); or (2) 45mm wide (contemporary).


Brush seals incorporated into frame for improved thermal and acoustic performance.


Timber external flyscreens optional. Magnet clips optional for use with external shutters.


Timber frames available in clear finish grade or paint grade.


Available in raw timber or pre-primed in grey or white.


AS2047 compliant.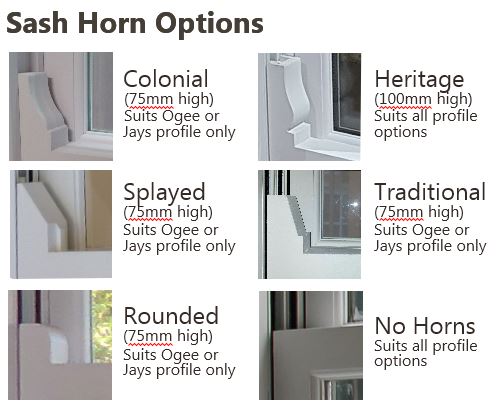 Make Your First Impression Last