Maximise the Airflow in Your Home
The Miami door brings light and fresh air into your room, with lovely full-height glass louvres that can be opened to make the most of the summer breeze. The Miami is suitable for both internal and external applications.
Constructed from beautiful Western Red Cedar, the Miami is custom-made to suit your size requirements. It features a solid timber frame with a gallery of adjustable Breezway 152mm glass louvres.
Breezway's award-winning louvre systems are designed to seal tightly against the weather, and have been extensively tested for performance and energy efficiency.
Keylock Security for peace of mind
The gallery of louvres can be securely locked in the closed position. The system features an over-centre locking mechanism that applies strong locking pressure to the blades when fully closed. The louvre lock is operated independently to the door lock.
Cedar West also offers a range of other louvre door designs, including fixed louvre options. Prices for our custom-made louvre doors start from $1000. Click on the related product links below to find out more, or contact us today to discuss the best option for your project.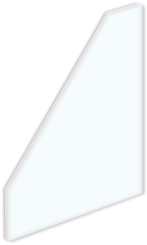 Breezway louvres with 152mm glass blades.


All doors are custom-made to suit your requirements.


Quality construction using Western Red Cedar.


Adjustable louvres can be opened and closed for airflow.


Breezway louvres are fitted into an aluminium gallery. Gallery colour options: clear anodised, white, brown, black or custom.


Keylock security included as standard.


Can be used with all Cedar West door frames (eg hinged or sliding).


All doors nominally 38mm thick as standard (43mm optional).


Available in raw timber or with factory primer (white or grey) to exposed surfaces.

Suitable for internal and external use.
Make Your First Impression Last